Green Team Challenge!
The Green Team Challenge is something that the IVVC students look forward to every year. It is a competition that each class can participate in and make an item out of recycled materials that are found in their classrooms. All the classes had a month to make their item, and then we voted on them March 11, 2011. The voting was done using Survey Monkey set up on a computer, so it was paperless!
The rules to the challenge were very simple: Projects had to be small enough to fit in the display case, they had to use recycled materials from their program, and there was a limit of two items per program (each A.M. and P.M.).
Green Team advisor Rob W. (Sandwich) presents the first place trophy to Computer Technology instructor Dan Bark.

The winners of the Green Team Challenge got a "traveling trophy" that they get to keep until next year. They also received a can of pop or candy bar of their choosing. The second place winners received recycled tote bags and reusable cups. The winners were:
 

First place – Computer Technology
Second place – Building Trades
Third place – Law Enforcement
 

Computer Tech made "Recycle-Tron" out of parts of old computers that were dead. They used the different parts and hung them from a board with old strips of network cables.





Building Trades made a Bass Guitar out of scrap lumber, and then they put strings on it. There is some fine craftsmanship in this project!

Law Enforcement made "Egypt" that was a pyramid made from different kinds of pop cans. Each level was the same type of pop. The cans were all glued together to stay in place.

Other projects included a Phoenix (a bird symbolizing rebirth) and a robot, both designed and created by the Graphic Communications classes, an igloo and a pig named "Gregory" made from tape rolls by the Sports Medicine class, and decorative Bass Clef Shelves and a birdhouse made by the Building Trades class.

Thank you to all the students and teachers who participated in the Green Team Challenge! You made this challenge a success!! Go Green!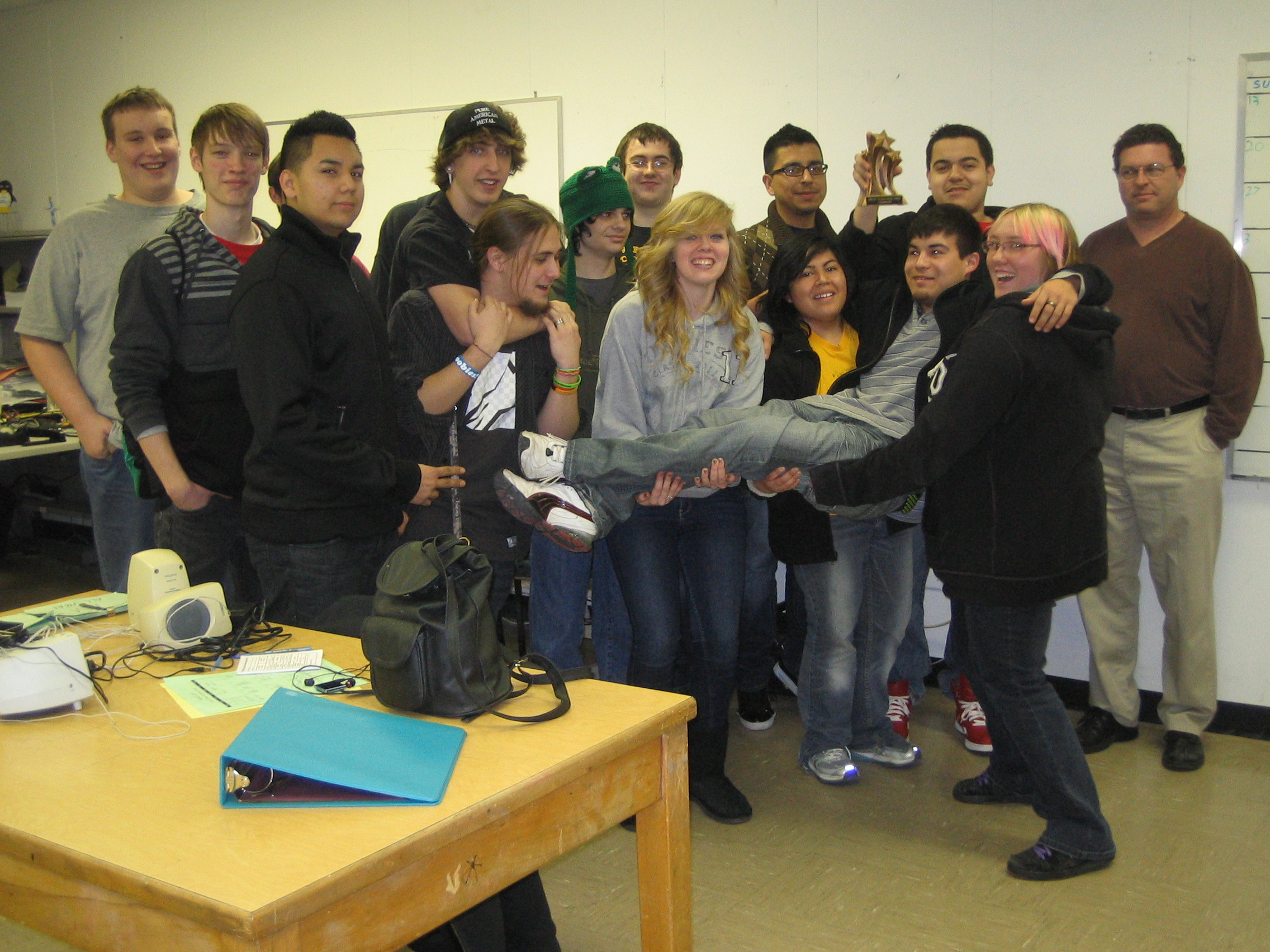 The afternoon Computer Technology students celebrate their win!