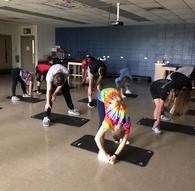 Building good habits, like exercising regularly, is crucial to high school juniors and seniors. Many Sports Medicine students participate in organized sports during high school. Unless they continue that into college, many are faced with a drastic reduction in their activity, which can lead to weight gain and other health issues.
To address this, second-year students are charged with creating "Fitness Friday" activities. As a team, both AM and PM second-year students create circuits, or challenges, for the first-year students to complete. Using various fitness equipment such as stability balls, BOSU balls, weights and bands, students learn how to perform functional movements correctly and safely. Second-year students apply knowledge of anatomy to create a variety of exercises that show first-year students how to easily plan a workout that addresses the whole body.
Great job, second-year students: Kay, Tristan, Ashley, Amber, Faith, Nathan (Sandwich); Skyler and Marie (Leland); Jake (Somonauk), Chris (Plano), Kylee (Indian Creek) and Jalyn (Yorkville).
read more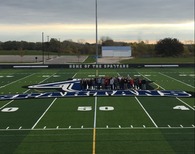 First semester in Sport Medicine is flying by! After getting through some introductory material, we have just completed our first anatomy unit on the foot, ankle, and lower leg. To close it out, each student researched a common injury to that area and presented their findings to their classmates. Students have begun taping practice and are well on their way to mastering those techniques. Coming up next - the knee!
This past Monday, students traveled to Aurora University and were able to tour the new Spartan Athletic Park and then meet with students and professors in the Athletic Training and Exercise Science programs. IVVC students were introduced to modalities in the AT room, and then participated in functional movement screenings and observed a VO2 max testing in the Exercise Science lab.
Thank you to the students and faculty at AU for having us!
read more
It was a chilly day in the Windy City as the IVVC Sports Medicine crew headed off to tour Solider Field. Although this stadium is known mostly for sports, it is one of the biggest Veteran memorials in the United States. . . . read more